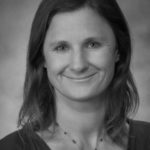 Medical School: University of Texas, Galveston, TX
Degree: Doctor of Medicine
Specialty: Family Medicine
Residency: Contra Costa Regional Medical Center
Board Certification: American Board of Family Medicine
Languages: English, Spanish
Christina Gomez-Mira, received her medical degree from the University of Texas Medical Branch in Galveston TX. She completed her medical training in family medicine at Contra Costa Regional Medical Center in Martinez, CA. Her experiences prior to medicine shaped her understanding of the social factors that affect health and included working as a Peace Corps community health volunteer, a social worker with a refugee reintegration program, a health educator, and a manager of a homeless clinic for youth. She eventually pursued her passion for storytelling and art through photojournalism which led her to medicine when photographing medical relief efforts in New Orleans one week after Hurricane Katrina left her feeling on the wrong side of the camera.
Christina is passionate about rural health and has had the privilege to work in rural and remote areas along the Texas-Mexico border, West Africa, Uganda, Borneo, Peru, and Panama. She is a fierce patient advocate and cherishes her connection with patients, believing optimal health is achieved through developing partnerships in support of health and wellbeing. 
Christina teaches nurse practitioner residents and appreciates supporting new providers and the continuous learning that comes along with teaching. Her other passions include advocacy, health equity, LGBTQ rights, maternal and child health, Latino and farmworker health, point of care ultrasound, diversity, equity and inclusion, and wilderness medicine. 
Christina worked for four years at Petaluma Health Center in primary and prenatal care and delivering babies, after which she came out to Point Reyes as the physician lead in 2021. She is thrilled to be working with such an amazing team and has loved getting to know the community of West Marin and engaging in community-based collaboration. She plans to continue to work towards health equity and outreach to our more under-resourced areas. She is bilingual in Spanish and proficient in French. In her spare time, she enjoys snuggling her 4-year-old daughter and wife on a farm, cooking food for loved ones, and jumping in any body of water she comes across.