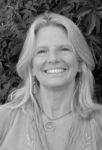 Specialty, Women's health
Diane has been with the Coastal Health Alliance since 1992 practicing family medicine. Diane came to California to attend the Stanford Primary Care Associates Program, which specializes in training physician assistants and nurse practitioners to work in under-served areas doing primary care. She is also a Licensed Midwife and before she came here she worked in a busy birth center on the Mexican border providing maternity, newborn and well woman care. She has helped well over a thousand babies into this world.
Diane's approach to health is one of prevention by healthy eating and living styles. She also attended the Southwest school of Botanical Medicine and earned a master herbalist certificate upon graduation. Diane has training in homeopathy as well as other complimentary healing modalities that she can draw on if a patient is so inclined.
Diane lives in Fairfax and raised both of her children in Marin. She loves working at the Coastal Health Alliance because of CHA's commitment to community medicine. At CHA, "We work as a team from the receptionist to the physician to improve the health of our patients and help them with the important decisions that need to be made through life's journey.